Bevpod Slim Cooler V3
Bevpod Ultra-Slim Cooler
Always Be Ready To Enjoy A Great Day With Friends And Family.
Bevpod Ultra-Slim Cooler
Always Be Ready To Enjoy A Great Day With Friends And Family.
Here's Why People Love The Bevpod:
Lightweight & Portable

- 50% Lighter than your average cooler. 

Hands-Free & Easy to carry - Comes with a comfortable shoulder strap.

Compact - Fits easily into a backpack, tote, or messanger bag.

Keeps Drinks Cold For 8 Hours.
WHAT IS THE BEVPOD SLIM COOLER?
Introducing Bevpod Ultra-Slim Cooler,  the only beverage cooler designed to make it easy to enjoy ice cold beverages with friends and family.  Don't let big bulky ice chest slow you down.
Get the first ultra slim cooler that chills 10 cans or 6 bottles and can fit in a backpack, tote, or slung over your shoulder with the included shoulder strap.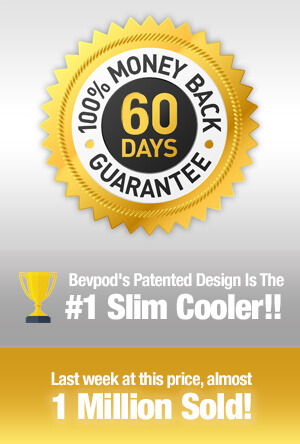 Would Recommend The Bevpod.






60 Money Back Guarantee
If for any reason you're unsatisfied, you can return your items for a full refund, no questions asked.
Shipping & Handling
All orders are shipped within 3-5 business days from within the U.S.
Secure Checkout
Your peace of mind is important to us, so we also offer alternative payment options through trusted partners like: PayPal, Amazon and Apple Pay.
Bevpod can fit a combination of food and beverage items. Some examples include: 10 Cans or 6 Beer Bottles or 5 Water Bottles or snacks!
Your cold drinks will stay chilled up to 8 hours.
When empty: the Bevpod, Ice Sheet, and included Shoulder strap weigh 3lbs. 
13 inches wide, 3 inches thick, 10.5 inches tall
How long should I freeze the Ice Sheet before using?
For best results it's best lay the ice sheet as flat as possible and freez eovernight.  
What if my ice sheet rips? Is the liquid safe?
Our ice sheets are custom made and designed for durability, but if it does rip, don't worry it's 100% safe and non-toxic.